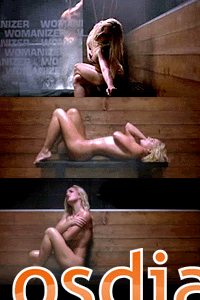 Britney sorprendió a los internautas completamente desnuda
La aparición de Britney Spears completamente desnuda en su más reciente video 'Womanizer' ha 'impactado' a la internet de la misma manera que ese objeto celestial acabó con la era Jurásica en la tierra. El video contiene escenas que muestra a Britney Spears como vino a este mundo dentro de un sauna.
El video clip debuto en el programa 20/20 de la cadena ABC en la noche del viernes 10 de octubre.
Britney filmó el video durante los días 24 y 25 de septiembre bajo la direccion de Joseph Khan, quien anteriormente había dirigido los videos para sus hits 'Stronger' y 'Toxic'.
La gran mayoría de los que han visto este video los consideran 'más fuerte' y más 'tóxico' que los anteriores videos dirigidos por Joseph Kahn.
En el video, Britney aparece interpretando diferentes roles: una sexy rubia en un traje de dormir mostrando su brazier por dentro; una estilizada secretaria con gafas, cabello corto, falda de cuero y saco a rallas y una mesera vestida de negro y con una peluca oscura.
'Womanizer' es el primer sencillo del nuevo álbum de Britney llamado 'Circus' el cual será lanzado el 2 de diciembre, cuando ella cumpla 27 años.
PD: A menos de medio día de su estreno, el video ya ha registrado alrededor de medio millón de visitas en youtube, ha recibido más de 8 mil comentarios, ha sido calificado con 5 estrellas más de 6 mil veces y es el video más discutido del día no sólo en música sino en TODO YOUTUBE!
Así que no se olviden de verlo y comentarlo aquí!
PD: Si no les deja ver el video y no quieren registrarse, pueden verlo desde el canal de Britney!
———————————————————————————————–
Britney Spears rocks internet with completely naked 'Womanizer' video appearance
Britney Spears' completely naked appearance in 'Womanizer' video has hit the internet like the deep impacting celestial object that ended the Jurassic era on earth. The video features long shots of a completely naked Britney steaming herself writhing on a stone bench.
The video debuted on ABC's 20/20 on Friday night, October 10, 2008.
Britney, 26, filmed the video on September 24 and 25, under the direction of Joseph Khan, who previously directed video clips for her singles Stronger and Toxic.
Most viewers consider Womanizer much stronger and toxic than Khan's earlier Britney videos.
In the video, Britney appears in multiple makeovers: a blonde sex kitten in a sexy bedtime robe with her bra showing, a sassy secretary with horn-rimmed glasses, a black bob, leather skirt and striped sweater, giving her co-worker a hard time, and a vampy waitress in black leather and brunet wig.
The single is the first released from Britney's upcoming album Circus set to drop on December 2, Britney's 27th birthday.
Source: swafsnews.